Can you remember Nicola Robert's nutella-tan phase? She was often in bitchy tabloids with "what was she thinking?!" captions, but when it comes to summer I can't help but feel the same urge to resist my natural white as a sheet colouring. As a result, I have tried a thousand and one potions looking for that realistic tan, and I thought I'd share my findings here for anyone else like me who wants to pretend they are Jessica Alba.
St Moriz: £2.99 (£1.49 per 100ml):
Cheap and cheerful, this mousse is easy to apply, dries quickly and has a good colour pay off. This is great for most skin colours because it is quite a deep tan, although fake tan virgins may want to stay clear of something so intense to begin with. On the downside it only lasts two days max before I need to reapply (at least on my skin), but this is no major problem as it is so cheap. It can sometimes have a tendency to be a bit "fake" looking as it has a slight orange-y tint, especially if building up layers. This could be because the DHA (the active ingredient) is just too high for my pale skin tone, but others contend it's because cheaper tanners do not have a green base - as this one doesn't - so does not produce as natural an effect. It might be the case then if you're a bit darker than me, you might not find you have any problems with this as your skin will react well with the DHA in this product. I really like this for a night out and think the colour transfers well on camera, although I do tend to stay clear of it if I'm going to be in natural sunlight. I'd recommend using this product at night because the smell is very pungent, and because upon application it leaves an awful film on the skin which looks dirty (although don't worry it looks lovely once the film has been washed off!).
RATING: 7/10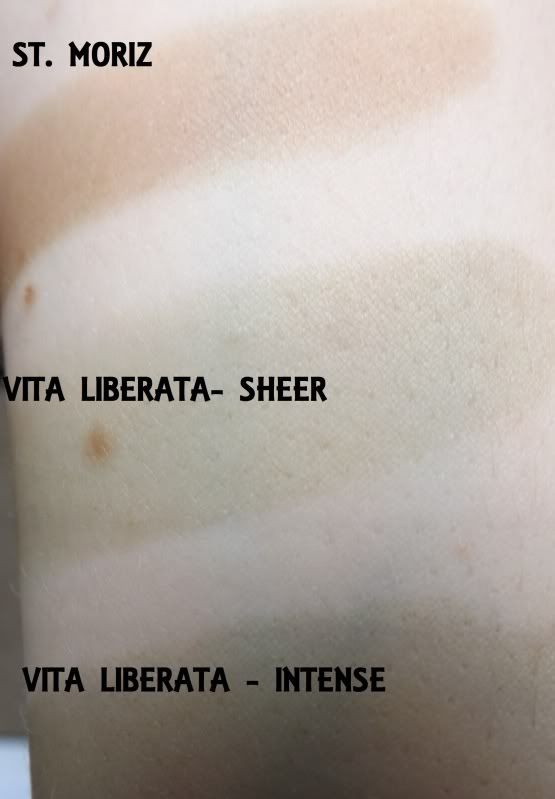 The tans when first applied, Vita Liberata sport green bases, whereas St. Moriz is orange based.
VITA LIBERATA - SHEER: £22.50 (£22.50 per 100ml)
This sheer mousse is made specifically to leave a sunkissed "just spent a few days in the sun" rather than a "been in Ibiza for two weeks" glow. This tan by far produces the most natural and beautiful tan on my pale skin and is a firm favourite. This is very subtle so you would have to be extremely pale like me to see any significant difference though. It is buildable, unlike St. Moriz, but at such a high price it's hard to justify more than one whole body layer. Great for pale skins and if you don't mind indulging on a more pricey tanner, I usually use this on my face which I prefer to keep lighter.
RATING: 8/10
VITA LIBERATA - INTENSE: £22.50 (£22.50 per 100ml)
The intense mousse is great for those who are wanting to acheive a deep tan; I find this is as dark as I could possibly go without looking like I was indulging in a mud bath. I find this one also lasts a lot longer, probably about 5 days before it goes patchy on me. I find one layer of this is plenty and it builds a really deep tan. I know that Vita Liberata has a reputation for being very light though, so what is very dark to me may be only a slight bronze for others so keep that in mind! What I really like is that the smell is not too strong when it's developing, in comparison to Johnsons and St. Moriz which are very overpowering. I think that this one produces a lovely deep tan that would be great for most people - definitely worth trying out. The only set back is the price which I think is steep, but I usually keep this for special occasions so I don't feel too guilty!
RATING: 9/10
DOVE SUMMER GLOW - £3 (£1.20 per 100ml)
As you can tell by the photos, with one application there is only a minor change in skin colour. This one is different to the other tanners because it's supposed to be used daily and developed over a week or so. I don't particularly like gradual tanners because there is usually no colour guide so likely I will mistakes. I also hate the idea of applying everyday because the fake tan smell bugs me, I worry about staining on my clothing and it's time consuming attempting to apply tan perfectly everyday. I much prefer to just apply tanner once with a lot of concentration then forget about it for a few days. I do find this really good though when my fake tan begins to fade as a really nice top up. This tan settles into the skin really quickly, it's very cheap and great if you want to pretend you are tanning like a little natural sun goddess. It doesn't smell too strong and I like the colour when used in conjunction with my other tanners.
RATING: 5/10
JOHNSON'S HOLIDAY SKIN - £3 (£1.20 per 100ml)
Another gradual tanner with no colour guide, I find this one the hardest to work with. This one took ages to settle in the skin, it smells extremely strong, the colour when built up I think is very orange toned and it goes extremely streaky. I know a lot of people with darker skin tones though who swear by this, so I think it's probably just not a good choice for a very pale skin tone. Again, this is great if my fake tan is starting to fade though and I need a nice little top up. Overall I do prefer the Dove tanner as it is the same price, does the same job, but gives better results.
RATING: 3/10
I hope you found this little guide useful! Please let me know if you have any recommendations as I love trying new products out!
Em x