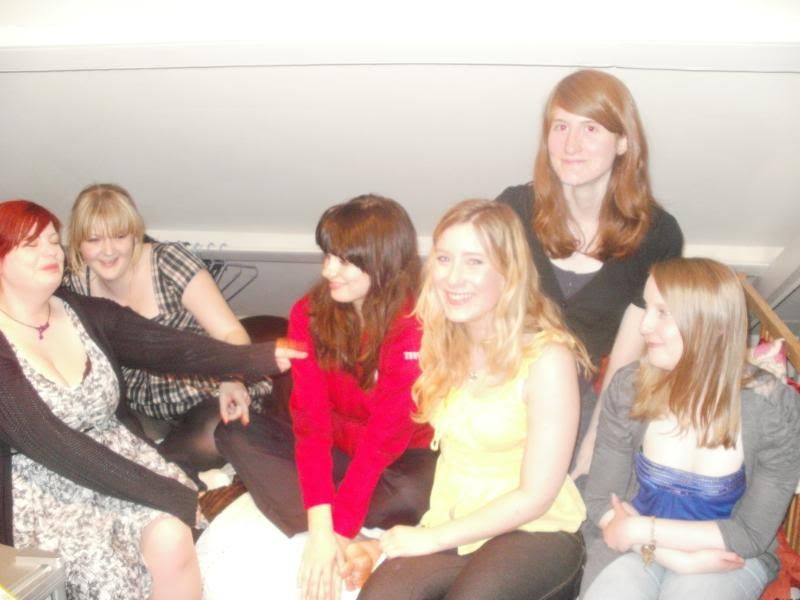 Roz, Jo, Kat, Liz, Ash
This week has been amazing! I finished my last exam on Wednesday and it's been so nice relaxing and being able to finally celebrate my birthday properly. I had a meal out with my family (+Jill) at an Indian restaurant on Thursday which was so lovely. The food was amazing, although I have to say the service was pretty chaotic. They got our starters, main and desserts wrong, even opening up a different wine to what we asked for, which was so cringe as we had to keep calling them over like those annoying customers who complain over everything :'). Otherwise it was a fab night with my favourite people in the entire world, and a memory I will treasure, cheesy but true. I typically forgot to bring my memory card and don't have photos, although my Dad does so I will show you them when I get them!
Yesterday I continued the celebrations with some friends at my house. We made our own punch (a litre of martini and six cans of strawberry cider), maybe all that talk about northern lasses being hardened drinkers is true haha.... All I've wanted to do is lie down but I forced myself to work out as I look like I've spent the last month on a diet of small children.
I only had over my closest of all time friends and it really was so much fun! The girls got me some lovely, lovely presents which were so thought out. Jo made me this amazing present, and also got me some wine (always trying to get me drunk..)
I got the above present off Roz, which I adore. I'm going to put in a photo from the night, but I'm not sure what to use the notebook for? It's too nice for Uni work so any suggestions would be great!
We (myself, and some of the crew Kat, Ash, Jo and Becca) were supposed to be booking Leeds, but alas it is all sold out! We ended up booking Chester so I hope that is still good! I'll let you know what we get up to.
Em xx